At EGB Hornung & Associés, we take care of your project from A to Z, from sketch design, through a preliminary design to turnkey delivery.
We take care of the choice of suppliers, design offices, furniture, lighting concept and acoustic solutions while ensuring that each element contributes to the realization of your vision.
Whether you are a company seeking to optimize your work environment or an individual who wishes to transform or renovate their kitchen, bathroom or living room, EGB Hornung & Associés is your single, trusted contact for the management of your project.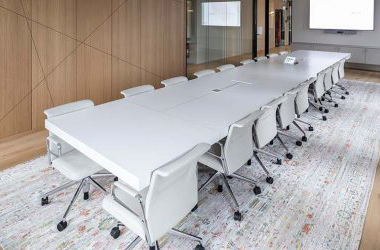 Bold and modern
A dynamic and attractive workplace in the heart of Luxembourg's financial district.
With a vibrant and graphic design that stand out through the entire workplace, this ± 570 m² office space enjoys a variety of meeting and working spaces, each equipped with the necessary technology to meet today's requirements and allow for optimal efficiency.
Separating the work areas, the kitchen and the lounge act as a central and agile get-together place where colleagues, suppliers and customers can enjoy a coffee break, chat and on the best days, celebrate!